Australian Prime Ministers Centre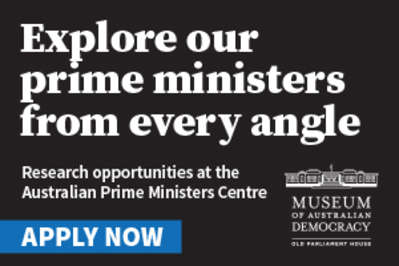 The Australian Prime Ministers Centre (APMC) research and scholarship program supports the achievement of the vision and purpose of the APMC, and builds knowledge about and engagement with prime ministers and political leadership.
The APMC welcomes researchers from any discipline. We offer a number of ways for researchers to engage with the Centre including fellowships, scholarships and internships.
---
The Australian Prime Ministers Centre (APMC) is a cross-disciplinary national centre for research and engagement around Australia's prime ministers.
The APMC is located at the Museum of Australian Democracy at Old Parliament House, drawing inspiration from our surroundings and contributing to the exhibitions, events and learning programs which take place here. We offer a space, physical and online, where Australians can 'meet' their prime ministers.
In an era of the rise of the Prime Minister, the APMC exists to hold a mirror up to all of Australia's prime ministers, the well known and the lesser known. As we do this, we capture and tell stories and encourage debate and conversation about issues of enduring relevance and contemporary interest. The APMC promotes excellence in prime ministerial studies, as well as innovative and flexible uses of the research we support.
The APMC works closely with our partners in the Network of Prime Ministerial Research and Collecting Agencies including the National Archives of Australia and the National Library of Australia, as well as the university-based prime ministerial libraries and archives and the prime ministerial house museums. Our role in this network is to facilitate collaboration and to participate in the development of complementary, accessible collections relating to prime ministers.
'At every level of human relationships - personal, economic, cultural or sporting - a unity of understanding and purpose is rightly regarded as a desirable element in achieving success. The principle is no less true at the highest level of the nation's affairs.'