Return to events
Zine lounge
Program
Open daily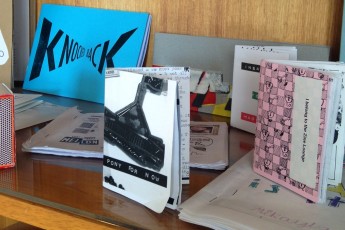 Stop the press
A message to all our ziners and self-publishing fans. The Zine lounge will be closed from Monday 6 March 2017.
Inside scoop – news just in, unconfirmed sources have indicated plans to create a dedicated space for young people later in the year.
Stay tuned as the story unfolds…
Open daily 9am–5pm, located next to the Downstairs Gallery.
Come and relax with some reading material or make your own masterpiece in our Zine lounge.
Make a couple of copies just for friends, or a few hundred to be sold through distributors or at zine fairs. Within the zine community, zines are their own currency. Swap them for other zines! Trade with mix CDs or long letters or even your favourite chocolate bar.
Document your story. Write your own narrative. Who else will tell your story in your own words? Create your own media. You have a voice, use it!
A zine (pronounced 'zeen') is a handmade, self-published magazine, often photocopied in black and white, and with a limited print run.