Return to exhibitions
Opposition Party Room and the Leader of the Opposition's Office
Permanent exhibition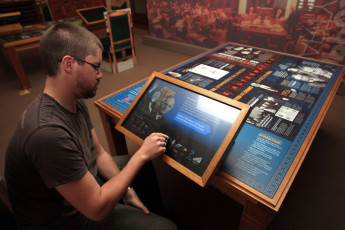 Spending time in Opposition: Wilderness or opportunity?
Sir Robert Menzies famously said that being in opposition is '…not a time in the wilderness … but a time in the garden of opportunity'. Gareth Evans clearly didn't agree when he expressed his view about sitting on the opposition benches in 1997 as 'Relevance deprivation syndrome'. The opportunities and challenges of being in parliamentary opposition are explored in the Opposition Party Room and the Leader of the Opposition's Office at the Museum of Australian Democracy at Old Parliament House.
Do you know what is meant by a gag, filibuster, parliamentary privilege and crossing the floor?
You can learn about these and other tools of opposition in the Opposition Party Room. You can also read about Opposition Leader John Curtin's unwavering stance on the importance of opposition and his rejection of numerous approaches by Prime Minister Robert Menzies to form an 'All Party National Government' during the Second World War.
Do you think that Australia has had a smooth journey towards democracy unmarred by political assassinations, terrorist attacks and race riots?
Take the democracy quiz and find out – you might be surprised by what you discover.
Control of the lower house of federal parliament does not mean that the government will get its own way. Find out about the other checks and balances in our federal system: the senate, the high court and the state and territory governments. Compare which parties have been in control since 1901 in the federal and state/territory governments and learn a little about our prime ministers.
Would you block supply?
In 1975 the Opposition blocked critical money bills that led to the dismissal of the Whitlam Labor Government. Watch a video about this significant event in our political history and then get a chance to vote on the money bills.
Next door, in the Leader of the Opposition's Office, the focus is on the leaders themselves, their personalities and their contributions to Australia's parliamentary and political history. A scan of the photographs from George Reid in 1901 to Tony Abbott in 2010 tells us a lot about the changing style of photographic portraits alone. Even more interesting is comparing the duration of opposition leadership. Doc Evatt holds the unenviable record for the longest time as opposition leader 'in the garden of opportunity' – nine years. Wilderness or opportunity? You be the judge.