Anzac Day at the provisional Parliament House
Written by

Libby Stewart

Date

Mon, 22 Apr 2013
For several years in the late 1920s and 1930s, before the opening of the Australian War Memorial, the provisional Parliament House was the focus of Anzac Day ceremonies in Canberra.
Provisional parliament house is now known as the Museum of Australian Democracy.

In sparkling sunshine and under blue skies, the residents of the National Capital paid homage to Australia's glorious dead at an impressive ceremony in front of Parliament House … At 10.45 the Guard of Honour composed of 50 picked cadets from the Royal Military College, under the command of Major J.E. Lee, DSO, MC, marched into position at the base of the steps. A voluntary band from the College led the way. High aloft above the sturdy standard-bearer floated the King's Colour emblazoned with the arms of the College … Above the House on the flagpole in front floated the Union Jack and the Southern Cross – twin symbols of the Cause for which these men had been willing to lay down their lives. (26 April 1928)
Officiating on that day, and in later years, was Governor-General Lord Stonehaven. Also present was Prime Minister Stanley Bruce, members of the Cabinet, and other Members of Parliament.
This first Anzac Day at Parliament House set the pattern for the next decade, as growing numbers of locals gathered near the steps of the building to watch the ceremony and the march. In 1941 The Canberra Times reported that rain caused the ceremony to be transferred indoors to King's Hall where 'several enterprising girls obtained a good view by climbing on to the counters of the messengers' boxes'. Anzac Day ceremonies moved permanently to the Australian War Memorial in April 1942, following the opening of that building the previous November.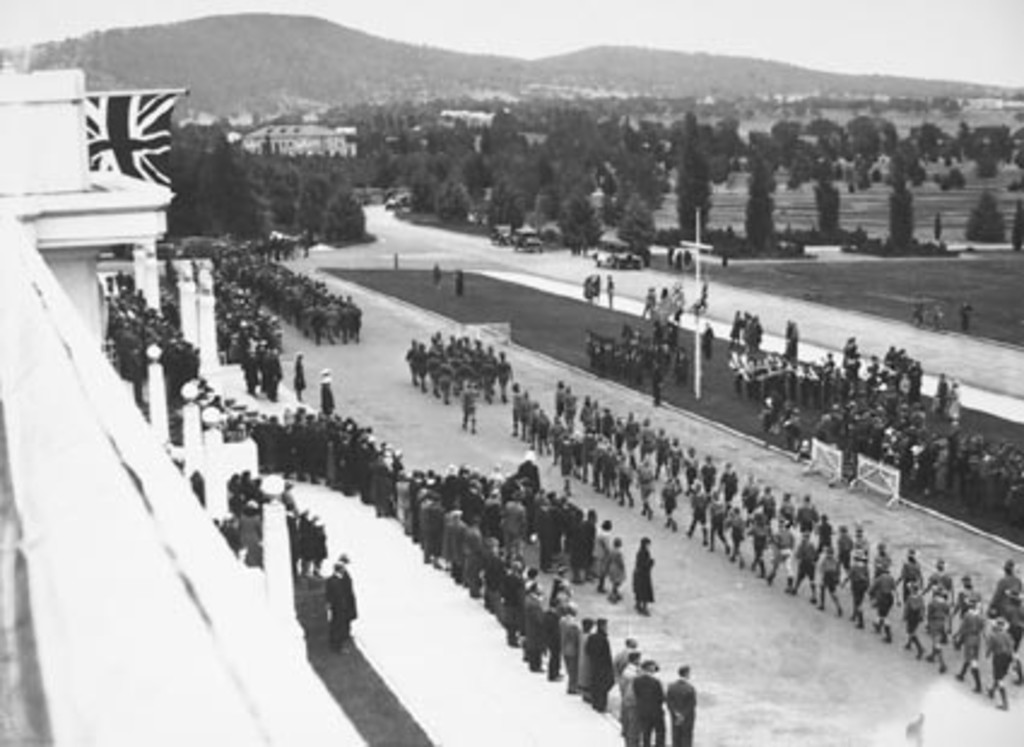 The museum recognises and celebrates Anzac Day, and Australia's war history, in several ways. Our website hosts a number of early Anzac Day photos from the wonderful Mildenhall collection and in the Prime Ministers of Australia exhibition visitors can view a very special item, the gold cigarette case given by Turkish President Mustafa Kemal Atatürk to former Prime Minister Stanley Bruce. Both men had fought at Gallipoli on opposite sides, Kemal as a divisional commander and Bruce as a captain in the British Army. During the post-war years of international reconstruction, both men forged a mutual admiration as passionate advocates of secularism. After the League of Nations Montreux conference in 1936, which successfully organised the international passage of warships through the Dardanelles and Bosporus Straits of Turkey, Atatürk presented Bruce with the cigarette case, which he treasured for the rest of his life. This precious object has been kindly loaned to the museum for exhibition by the National Archives of Australia.