Dining room chair
Plain, functional and designed specifically for Parliament House.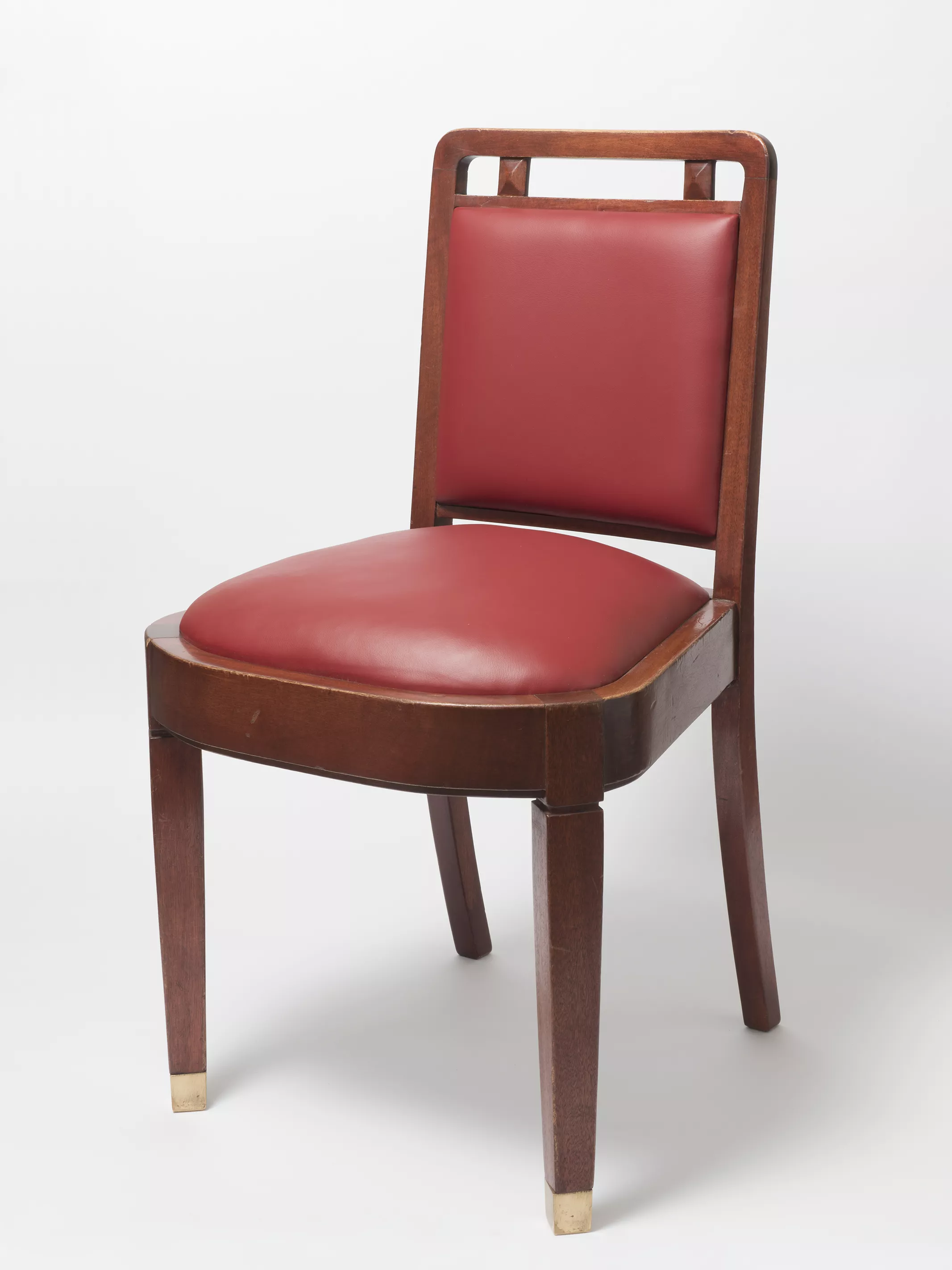 These chairs were designed for the dining room of Parliament House. This is just one of the 267 dining chairs in our collection that were designed specifically by the Architects Department of the Federal Capital Commission – a group of draftsmen led by principal architect John Smith Murdoch. 
When the newly built chairs arrived, they were despatched to the dining and recreation rooms used by parliamentarians, guests and staff in the south-wing of Parliament House – collectively known as the Commonwealth Parliamentary Refreshment Rooms. 
---
Used for Royal visits, State Receptions and formal dinners
---
The chairs were immediately pressed into service for the State Luncheon on the day the building was officially opened, 9 May 1927, when the Duke and Duchess of York and guests enjoyed a three-course lunch prepared by the Parliament House chefs.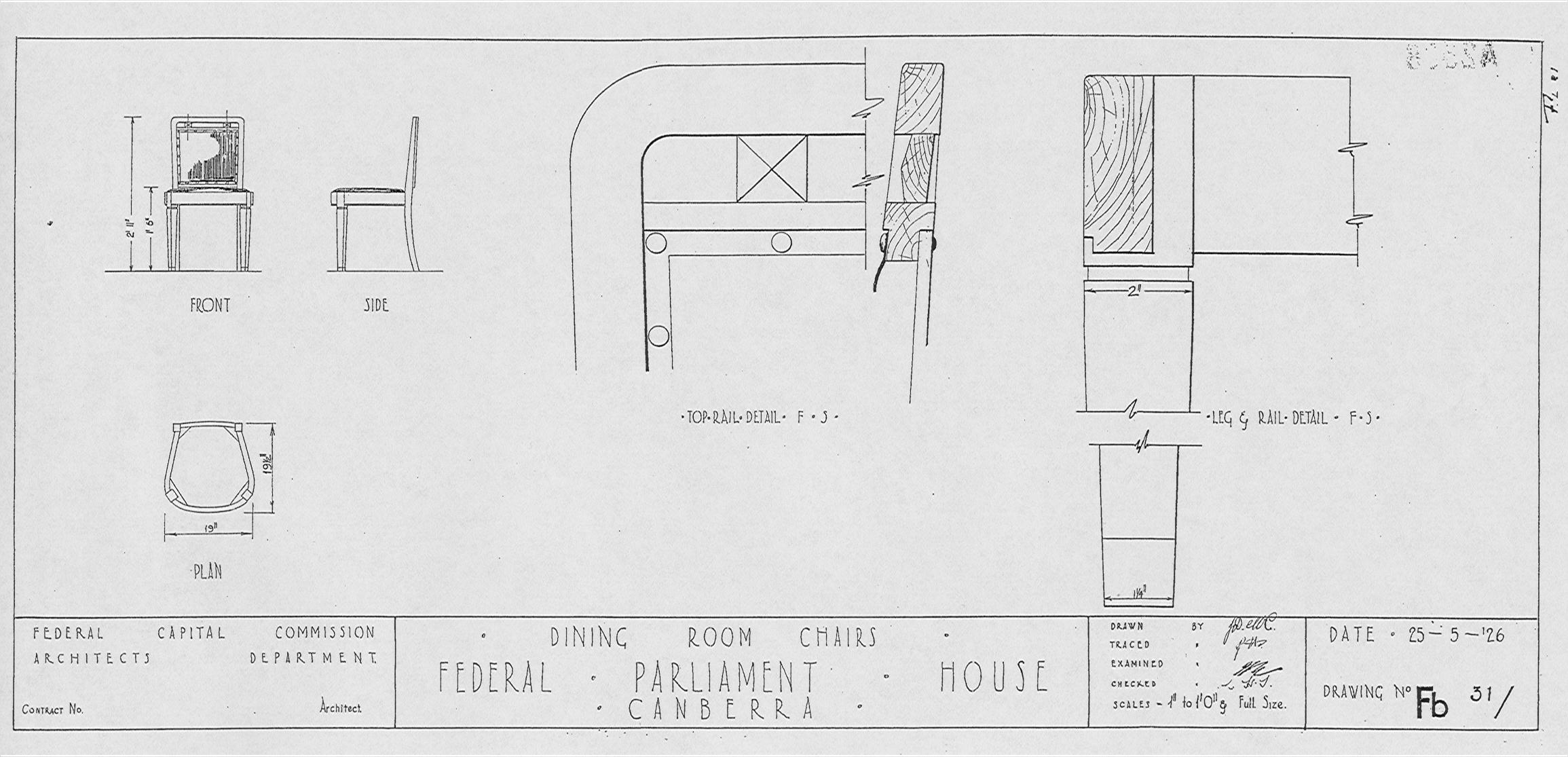 Technical drawing of the dining room chairs for Parliament House prepared by the Architects Department, Federal Capital Commission, 1926
---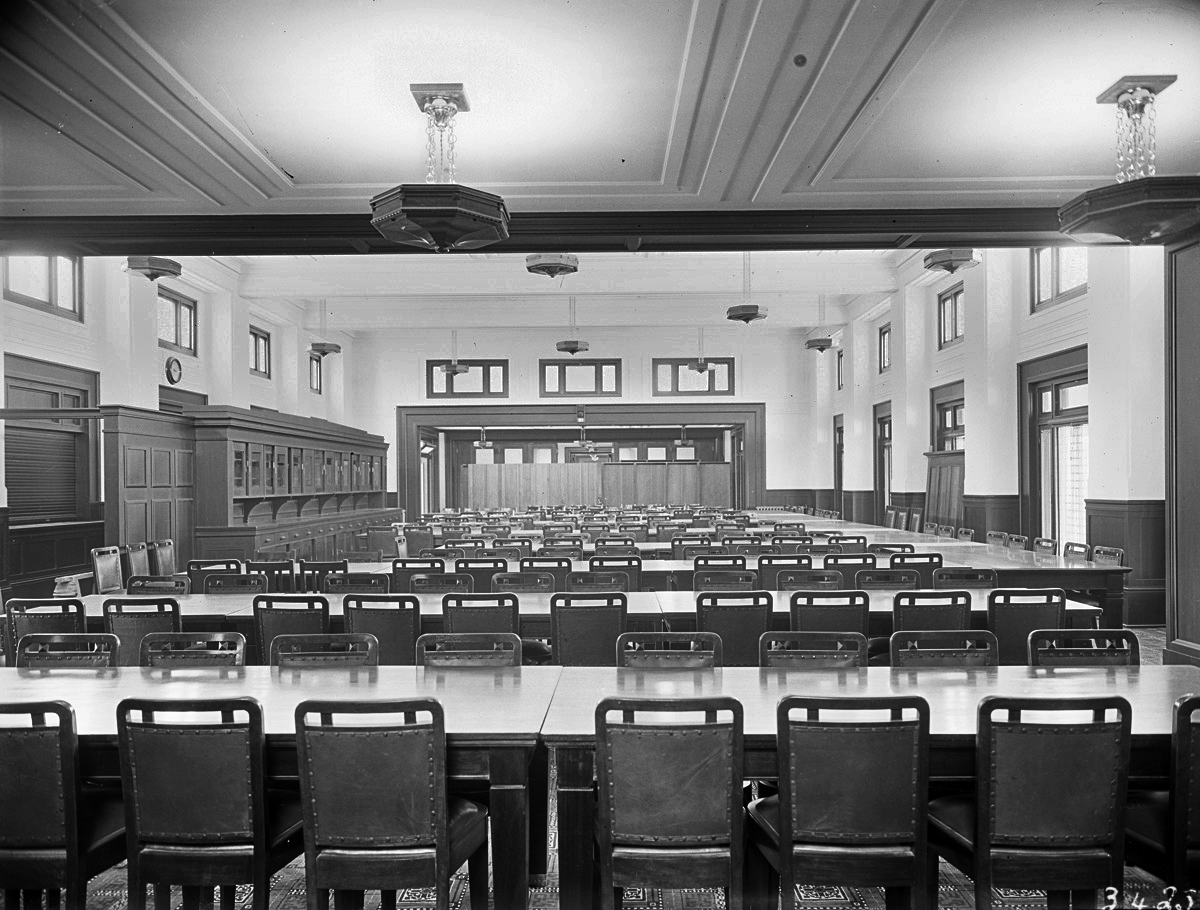 Hundreds of dining chairs were hand-crafted for the Members' Dining Rooms and other areas in the Commonwealth Parliamentary Refreshment Rooms, 1927 Credit: Photograph by William J Mildenhall/National Archives of Australia A3560, 3423
---
The Refreshment Rooms and these dining chairs also hosted other Royal visits, State Receptions and formal dinners including the State Banquet in 1954 for the Royal tour and the 50th birthday celebration for Prime Minister Malcolm Fraser in 1980.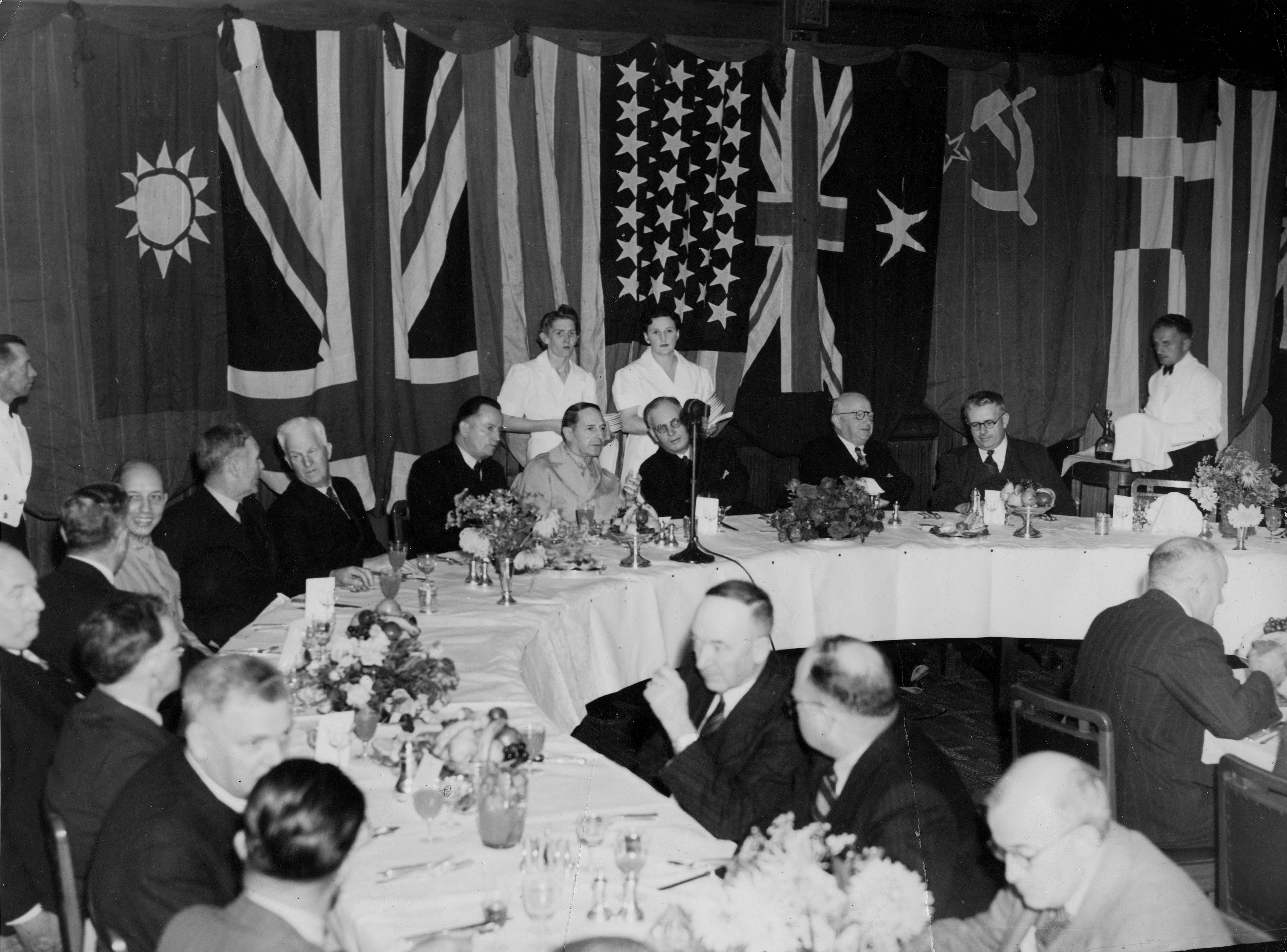 US General Douglas MacArthur, centre in a light-coloured uniform, visited Parliament House on 26 March 1942 for meetings and stayed on for a meal in the Members' Dining Room. Credit: Photograph courtesy of Joy Hoffman /Museum of Australian Democracy Collection
---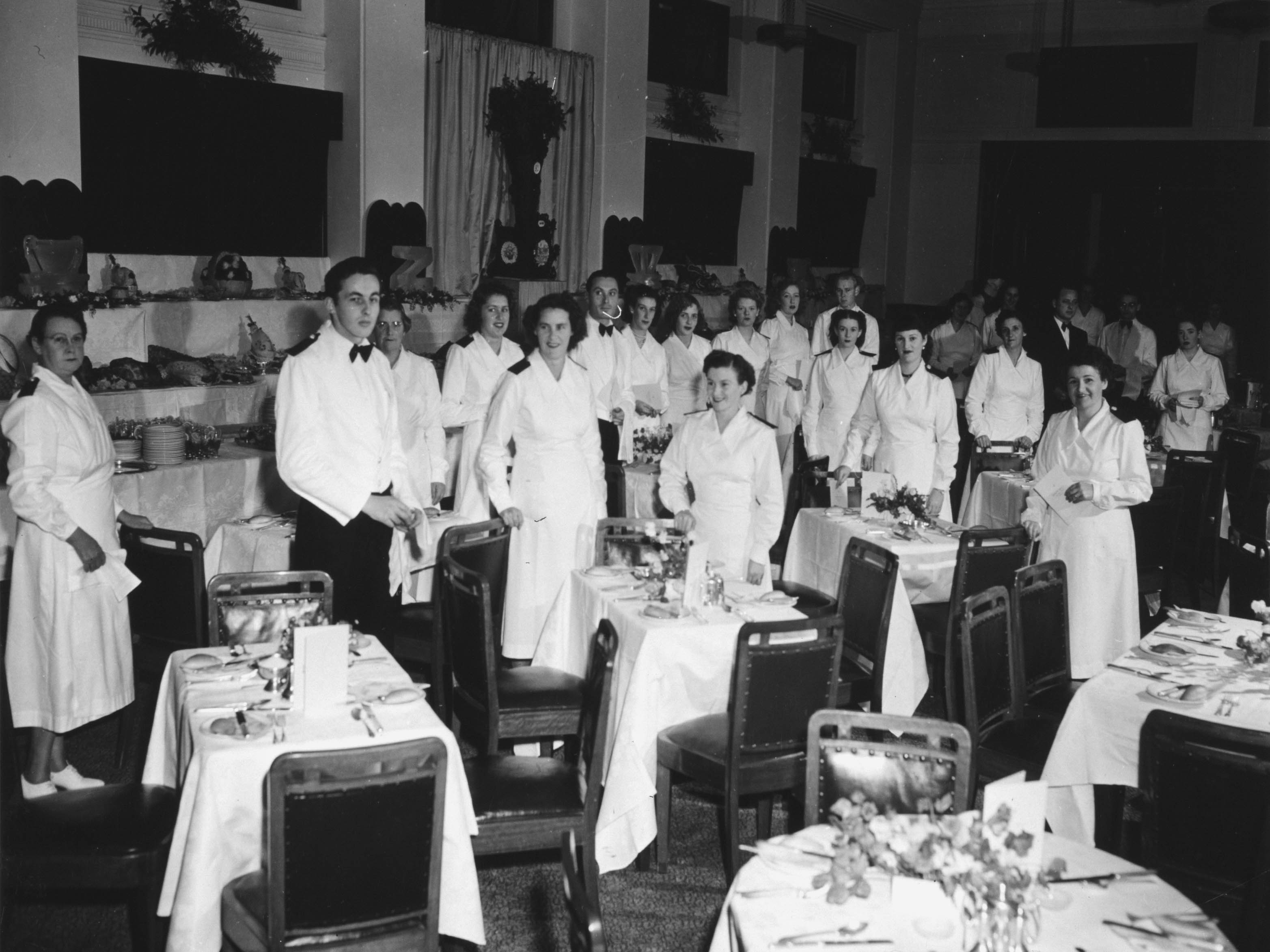 Commonwealth Parliamentary Refreshment Room staff before a dinner celebrating 50 years since Federation in the Members' Dining Room, 1951 Credit: Photograph courtesy of Joan Frost /Museum of Australian Democracy Collection
---
Visual description
This dining room chair is made of Queensland maple with a padded back and drop-in horseshoe-shaped seat. Queensland maple is a medium-grain timber with a warm honey tone and a natural lustre. The timber is sometimes referred to as 'silkwood' because of its sheen.

The design of the chair is plain and functional with no decoration other than small pyramids along the top rail where the diner would grasp the chair to draw it away from the table. The chair legs are square in profile and quite scratched and dented from years of constant use and the front legs taper to protective brass-caps. This chair has been recently reupholstered in cherry red leather.
FREQUENTLY ASKED QUESTIONS
Are these chairs still in use today?
Absolutely, these chairs are work horses and are still used today in our café. Who knows – if you come to visit you might sit on the chair used by US General Douglas MacArthur when he came for meetings and a meal on 26 March 1942.
Who made the chairs?
The order for the chairs was so large that their fabrication was handled by six firms across south-eastern Australia - Myer Emporium Pty Ltd and W H Rocke and Co in Melbourne, Anthony Hordern and Sons, Beard Watson & Co and Bebarfalds Ltd in Sydney and A Pengelly and Co in Adelaide.
How do you care for these chairs?
We have put a reference set of the best originals into storage and stabilised the remainder so they are suitable for daily use. The stabilisation work included reupholstering many of the chairs with new colour-matched leather. We care for these chairs by using them – their daily use ensures that they are constantly monitored for loose joints or damaged upholstery.
What are the Refreshment Rooms?
The Refreshment Rooms were designed to provide everyday in-house dining and recreation facilities, a critical function in the early years when there were very few other dining options for parliamentarians and parliamentary staff close to Parliament House. They also provided some measure of comfort in compensation for long hours of work and lengthy periods away from home.