In the often caustic and adversarial world of politics, with politicians clearly polarised on one side of the divide or the other, it would be easy to imagine they hate one another's guts, wanting nothing better than to see their enemies destroyed professionally and personally.
While sometimes this is the case, there are plenty of examples of the reverse – two politicians from opposite sides who found common ground on a personal level and became fast friends.  
One of the most famous cases was the relationship between the second US President, John Adams, and his successor Thomas Jefferson. They corresponded regularly through much of their lives and, though Jefferson beat Adams for the presidency in 1800, they remained on good terms, despite being on very different sides of the political fence. They even died on the same day, with Adams' last words said to be "Jefferson lives" about his friend, unaware Jefferson had died a few hours before.
Here are five examples of friendships that transcended partisanship.
Fred Daly & Jim Killen
Probably the most famous cross-party friendship was that between Labor's Fred Daly and Liberal Sir James Killen. Both had long parliamentary careers, both served in high ministerial office, and both had famous wits. It was inevitable, in the collegial and close-knit community that was Parliament House at the time, that these two opponents would come to be firm friends.
Above all, both men shared a sense of humour. In the introduction to Daly's book of humorous political stories, Killen wrote of their time together:
We saw or experienced just about every human emotion from ecstasy to deep sadness – even bitterness or hatred. Politics by its nature is divisive. Its amalgamating elements are few. Laughter is one of them.
On Daly's death in 1995, Killen said:
'There have been few in history who have been able to turn humour into a political
weapon,' he said. 'An exceptional human being has left this world, a very precious
part of my life has passed by.'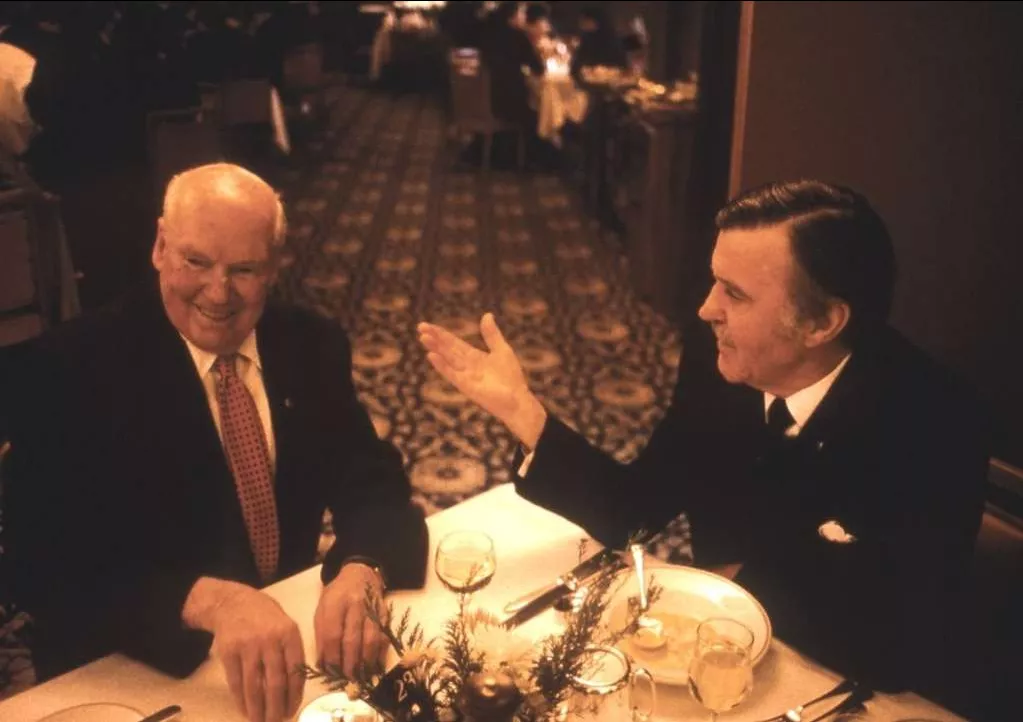 Fred Daly (L) and Jim Killen (R) continued their friendship for many years after their political careers ended. The two men attended celebrations at Old Parliament House to mark the end of its life in 1988, when both had left politics. Photograph by Robert MacFarlane Department of the House of Representatives 1988
Ben Chifley & Bob Menzies 
The 1946, 1949 and 1951 federal elections were fought between the giants of their parties, Liberal Bob Menzies and Labor's Ben Chifley. Menzies succeeded Chifley as PM after an election at which he quite brutally attacked his opponent's policies, but not his character. For the two men were very close, and had a number of common interests. One of those was detective novels – the two used to swap trashy mystery books, some of which remain at the Chifley Home in Bathurst even today.
When Chifley died in June 1951, he had skipped the Jubilee Ball (in King's Hall) to go home and read a book, his home being the Kurrajong Hotel when in Canberra. Around midnight, a teary-eyed Menzies announced the death of his friend to the stunned attendees around him, calling off the festivities in memorium. Later, in parliament, Menzies described his late opponent as:
'…the parliamentary colleague, the good friend, the honorable opponent, the whimsical philosopher, the man who, not only by great ability, but also by those simple human qualities which enrich and direct great ability, rose, without favour or patronage, to the Prime Ministership, to an assured place in our history and to a warm corner in the affectionate memories of all of us.'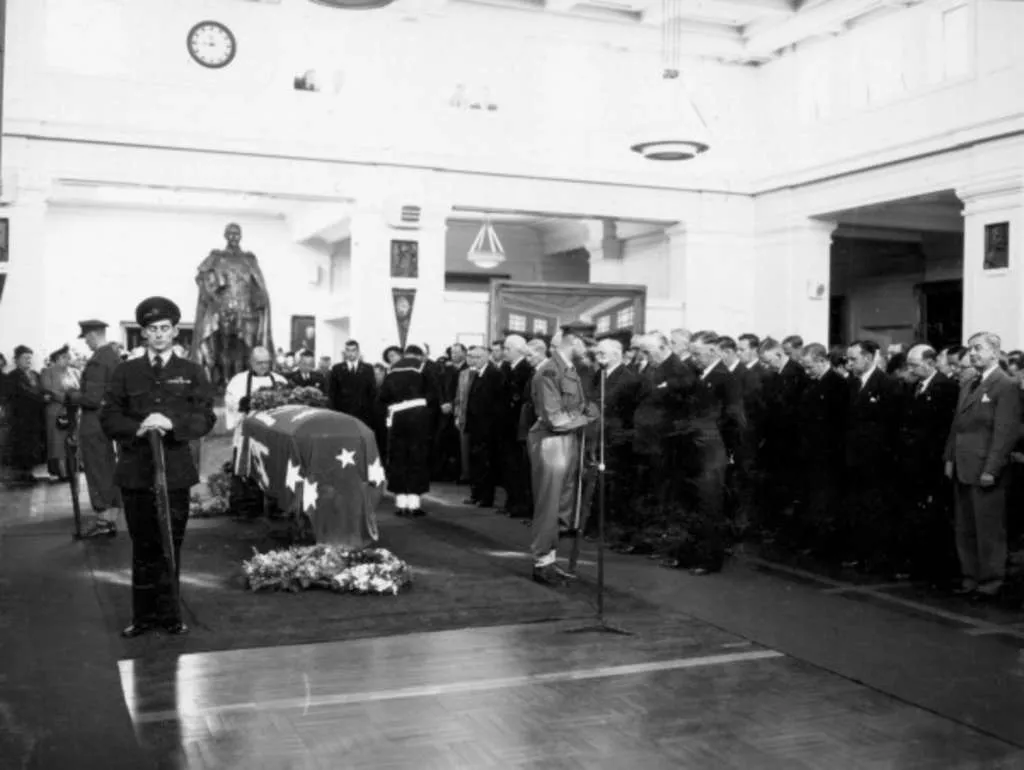 Robert Menzies (centre right) looks on sadly as his late rival and close friend Ben Chifley lies in state in King's Hall, one of only three people so honoured. National Archives of Australia
Cheryl Kernot & Gareth Evans
It isn't just friendship that can blossom between political opponents. In 1997, Australian Democrats leader Senator Cheryl Kernot rocked the political world by defecting to Labor, announcing she would stand for the House of Representatives for her new party. Such party-switching was and still is quite rare, and there was plenty of analysis as to Kernot's motivation.
Many years later, veteran journalist Laurie Oakes revealed that Kernot had been recruited to Labor by its deputy leader, Gareth Evans, and shocked everyone by revealing the two politicians had been romantically involved. Both later confirmed the story, but stressed it was a private matter and didn't dwell on it. Office romances and affairs are no less common in parliament than other workplaces, but with the added complication of being in the public eye, and the potential impact on the political landscape.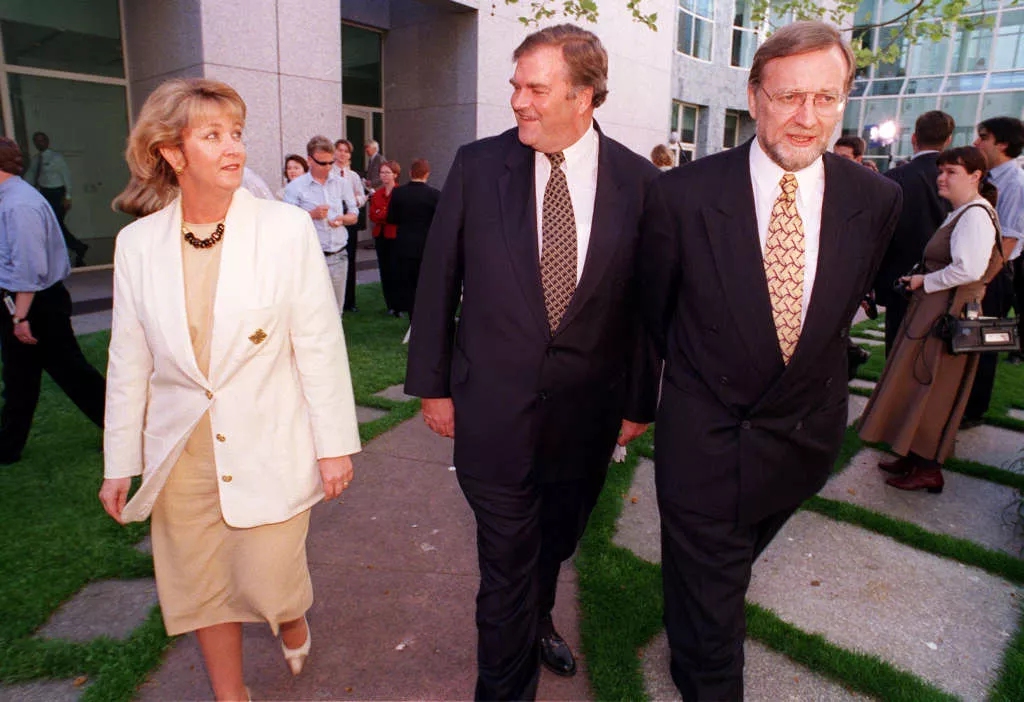 Labor's star recruit, Cheryl Kernot, with the party's leader and deputy, Kim Beazley and Gareth Evans, in 1997. Evans and Kernot did not speak of their relationship for many years, believing it to be a private matter. Fairfax Media
Peter Howson & Frank Crean 
Peter Howson was a minister under Menzies and his successors, a committed member of the Liberal Party and a staunch conservative on social and economic issues. Despite this, he was a close friend of Labor MP Frank Crean. In Howson's diary, published in 1984, he details several occasions where he would drop Crean off at the latter's home in Melbourne after returning from Canberra, and stay for a drink or dinner with his opponent and Crean's wife, Mary. From time to time, Howson would consult Crean on policy and politics, and the two used their friendship to influence one another for (above board) favours, and to make political deals. Howson even recorded that there were times Crean expressed private exasperation with his own leader, Arthur Calwell, much to Howson's delight.
Gough Whitlam & Malcolm Fraser
Saving the best till last, we simply must include this one as it is a classic example of a deep, bitter rivalry softening into a friendship. Fraser and Whitlam could not have been more different politically and even in personality; Whitlam was a devout progressive Labor man, Fraser a rigidly conservative Liberal. Whitlam was famous for wit, humour and bombastic persona, while Fraser was far more dour and reserved. In 1975, their relationship was at its lowest point, as Fraser's parliamentary tactics saw the Whitlam government dismissed by the Governor-General, Sir John Kerr. Whitlam never spoke to Kerr again, but he maintained a cordial relationship with Malcolm Fraser in spite of it all.
Over time, the two men became friends, bound by common views and the solidarity of being an ex-prime minister. On Whitlam's death in 2014, Fraser said he never believed Whitlam held him any personal animosity, and both men helped one another get important international roles, such as Fraser's position negotiating for an end of Apartheid in South Africa. They found they had similar ideals after all, such as on media diversity, Indigenous affairs, and immigration, and they turned heads when they appeared together as friends, most notably campaigning side-by-side during the 1999 republic referendum. Despite their friendship, however, they apparently never mentioned the events of 1975. Some things, perhaps, just test a friendship too much.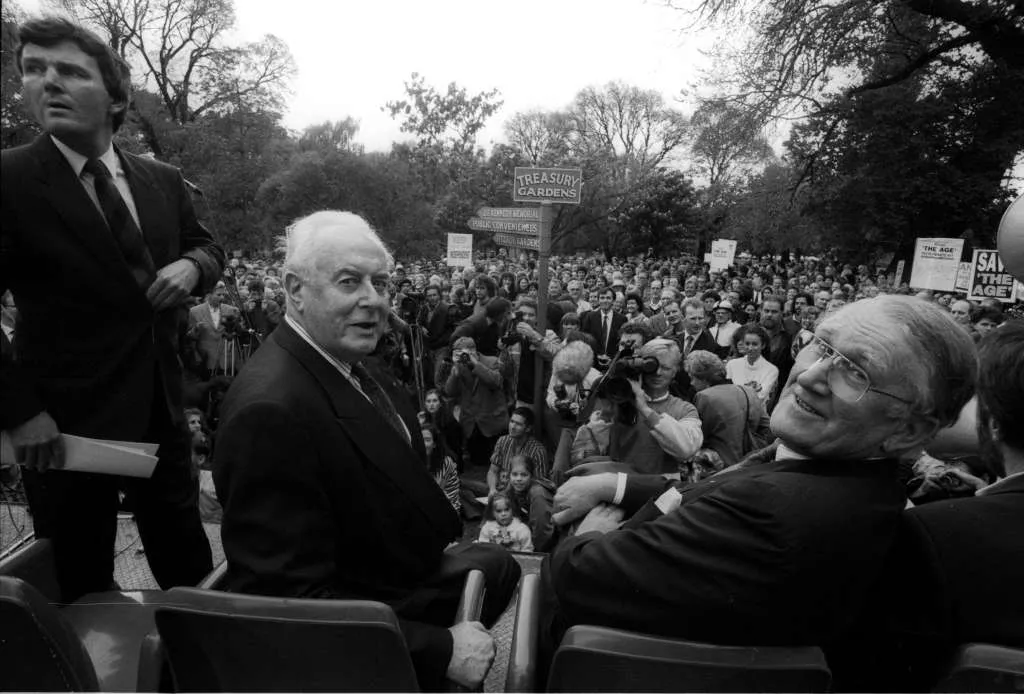 In 1991, former PMs Whitlam and Fraser were photographed at a rally in support of the free media and the Age newspaper, making waves as they did so. The two men found much in common after the unpleasantness of the 1975 dismissal, an event they never discussed. Fairfax Media