The sitting member, John Alexander, resigned due to issues with his eligibility under Section 44(i) of the Constitution. His Labor opponent, former New South Wales Premier Kristina Keneally, hopes to become only the second Labor Member for Bennelong.
Bennelong was gazetted as a House of Representatives seat in 1949. Its borders have shifted here and there in that time, but it has always been based around the Sydney suburbs of Ryde and Lane Cove. There have been only four Members for Bennelong, and the Museum has a story to tell for each of them through objects and places that speak to who they were and how they represented their community.
Sir John Cramer
Liberal 1949-1974
John Cramer, later Sir John, represented Bennelong for a quarter of a century. He was an important figure in the foundation of the Liberal Party. During the Menzies era, Cramer was the only Catholic in the Liberal party room, something Menzies took a particular delight in teasing him about. He died in 1994 at the age of 98, and was knighted in 1964 for his services to Parliament. 
This seat in the House of Representatives is where Sir John during the last years of his career. From this vantage point, the veteran MP could see younger members debating using the lessons he, a seasoned debater and mentor to many on both sides of the chamber, had imparted to them.
The House of Representatives chamber, viewed from John Cramer's seat. MOAD Collection
---
John Howard
Liberal 1974-2007
Bennelong's most famous member is also its longest-serving. John Howard was first elected to the seat in 1974 and held it for 33 years.
Howard served as Liberal leader twice, from 1985 to 1989 and again from 1995 to 2007. In 1996, he was elected Australia's 25th prime minister, and his tenure of almost twelve years is second in length only to Howard's acknowledged hero, Bob Menzies. 

This badge dates from the 2007 federal election. Boundary and demographic changes had made Bennelong increasingly marginal during Howard's incumbency. At the election which swept his government from power, Howard became only the second Australian prime minister to lose his seat, defeated by Labor's Maxine McKew.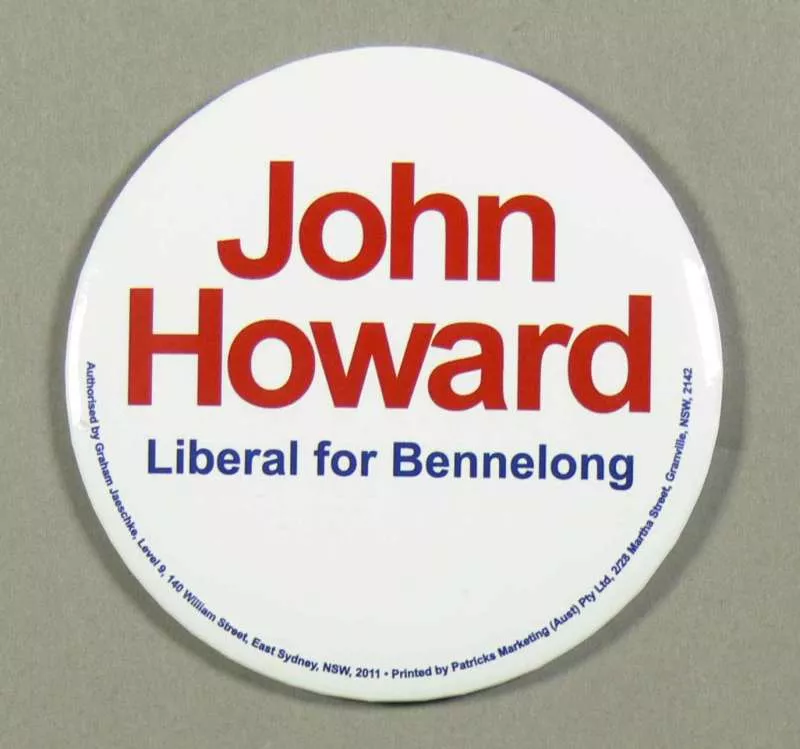 John Howard election badge, 2007 MOAD Collection
---
Maxine McKew
Labor 2007-2010
Maxine McKew was a former ABC journalist, known to many Australians as the host of Lateline and The 7:30 Report. In 2007 she was a surprise 'star recruit' for the Labor Party as they attempted to win the marginal, but historically safe, seat for the very first time.
McKew campaigned energetically to become Labor's first Bennelong MP. One important factor in her victory was her courting of the electorate's diverse migrant population. This poster from her campaign is primarily in Korean, one of Bennelong's many multicultural communities.
McKew immediately became a parliamentary secretary in the Rudd government. In 2010, however, her fortunes turned, and she was defeated for re-election by another well-known Australian from outside politics.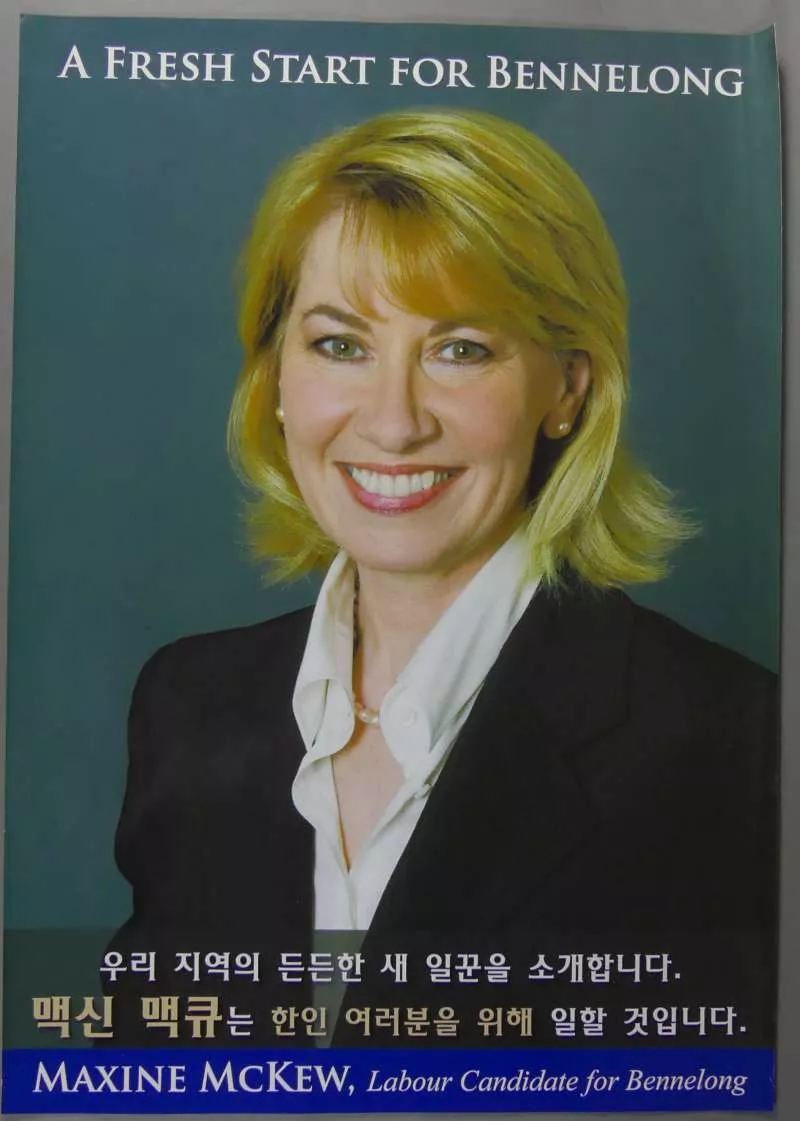 Korean-language poster for Maxine McKew, 2007 MOAD Collection
---
John Alexander
Liberal 2010-2017
Between 1968 and 1983, John Alexander won 7 singles titles and 27 doubles titles as a professional tennis player. He was later known as a tennis commentator on television.
In 2010, Alexander defeated McKew to recapture Bennelong for the Liberal Party with a 4.5% swing. His stint in parliament connected to his previous career when in 2011 he began the Bennelong Cup, an international Table Tennis tournament. Exhibition matches for the Bennelong Cup are now played at Parliament House every year.
This t-shirt is from Alexander's successful 2010 campaign. It was donated by one of his campaign volunteers, who wore it handing out material at polling booths to encourage voters. Sadly, there is no tennis racket featured anywhere on the shirt.