On This Day: a plot to kill Harold Holt?
Written by

David Jolliffe

Date

Wed, 16 Nov 2016
After waiting six days outside Parliament House for Prime Minister Harold Holt to get back from Melbourne, Nedeljko Gajic decided to return to Sydney to look for work.
On 16 November 1966, he was arrested in Braidwood after threatening a taxi driver. It was alleged by police that Gajic gave a statement that he intended to 'kill the head man of Australia, Mr Holt.'
Gajic stated that he arrived in Canberra on November 10, to make police believe he came to Canberra to kill the prime minister, in the hope that he would be sent back to Yugoslavia. He was found to be in possession of a cut-down .22 calibre rifle and magazines containing up to 100 rounds of ammunition, along with a photo taken from a newspaper of Prime Minister Holt.
In his police interview he recounted how upon entering Parliament House, 'I left the brief case inside near the door because it was quite heavy and I did not want to carry it around. The rifle was loaded and had the larger magazine in it. I went inside… and a man spoke to me and showed me where the Government was and where the Senate was.'
After two trials in December 1966 and March 1967, where juries failed to reach a verdict, the Crown decided not prosecute charges against Gajic any further.
Holt commented, 'The decision not to go ahead with the third trial…was convincing evidence of the strength of democracy in Australia.' There were some accounts that a single shot was fired at the building, cracking a window, while Holt was working. This is not supported by any of the newspaper reports of the incident.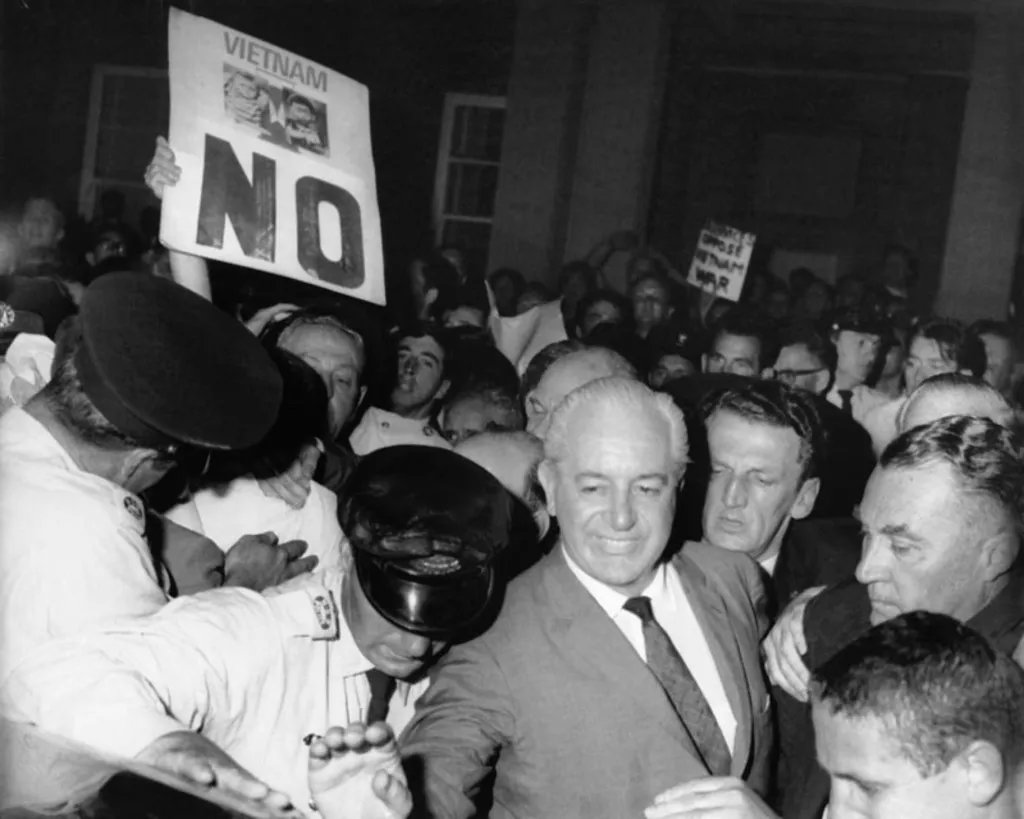 Harold Holt jostled during a November 1966 election rally in Rockdale. NAA: M4294, 7.