'So deadly...so proud': Representation and democracy
'So deadly...so proud': Representation and democracy
Written by

Leah Matilda House

Date

Fri, 13 Nov 2020
'I was proud of this strong Blak woman in front of me, she made me feel empowered!'
Leah House is a Ngambri Ngunnawal woman, community leader, and the grand-daughter of Matilda House - one of the original protestors who helped establish the Aboriginal Tent Embassy in 1972. On 6 October 2020, Leah and many other members of the House family gathered at the Embassy to take part in a Smoking Ceremony for Senator Lidia Thorpe, the first federal Aboriginal politician for the Australian Greens. We spoke with Leah about the day (it 'was wet!'), its significance ('I felt so proud') and her views on democratic representation.

Tell us more about the Aboriginal Tent Embassy's ceremony for Lidia Thorpe

Senator Lidia Thorpe through consultation with our local community prioritised being Welcomed to Country prior to her attendance at Parliament House on the 6th of October. We held this Welcome to Country and Smoking Ceremony at the Tent Embassy, a location that has represented and stood for First Nations Peoples' Sovereignty in this country since the early 70's.

The day was wet! It rained the entire morning, my nan pushed the umbrellas away from Senator Thorpe to allow the rain to fall on her.

My nan, Matilda House, painted Senator Thorpe with two different Ochres, then she painted my nan. Then nan Welcomed Senator Thorpe and wished her luck with her new journey. My cousin Billy T did the Smoking Ceremony and my cousin Diyan Coe helped.

What were you feeling and thinking as your participated in the ceremony?

I was conflicted as Senator Thorpe's journey is not in line with my own, the pathway she has chosen is a pathway I don't believe I could ever take, however, I was inspired by her strength and respect her entirely for what she is doing.

It is important to uplift and support each other. Watching her that morning I saw how strong she is and regardless of what angle we come from we are ultimately working towards the same outcome. I was proud of this strong Blak woman in front of me, she made me feel empowered!

How did it feel to see Senator Thorpe become the first Aboriginal senator for Victoria and the first federal Aboriginal politician for the Greens?

So deadly, I felt so proud. Her presence was powerful even before she spoke a word! Her entrance was so staunch and that is an accurate reflection of her.

I hope now with Senator Thorpe entering and having staunch mob like Nova Peris already in that arena it will open doors for other First Nations mob to enter that space.

Senator Thorpe has extensive lived experience in grassroots activism, from your experience in grassroots activism, do you think this is important in democratic representation?

YES. For myself it is not an arena I would enter, I do not recognise the Australian government's authority on stolen Lands. But I do recognise the importance of representation that reflects mob on the ground. Lidia brings lived experience that you cannot buy, you cannot fake it. While there may be First Nations people in political spaces many certainly do not come with lived experience and cannot speak for grassroot mob, identifying as Aboriginal and/or Torres Strait Islander does not by default make you a representation of all other mobs. This representation that Lidia brings to the table is so important.

What are some of the things you hope Lidia achieves in her role?

The main thing I hope she achieves and do not doubt she will, is to inspire and empower younger First Nations people. Our youth are watching and learning, what she is doing is showing our babies that they can enter spaces that were not designed for them, they can break down barriers and we will be right there to support them.

Id like to see her stay grounded in her cultural identity, she is a strong Gunnai Gunditjmara woman.

I hope she brings to mainstream Australia's attention the violation of our Lands and waterways.

Attention towards First Nations people Sovereignty in that it is not inferior to Australian Sovereignty.

Attention towards the removal rates of First Nation babies. Here in the ACT our babies, Aboriginal and Torres Strait Islander children are 16.3 times more likely to be removed, we are a small jurisdiction and the capital of Australia we should be leading the country in child protection matters. We only come second to the NT in removal rates, this is appalling.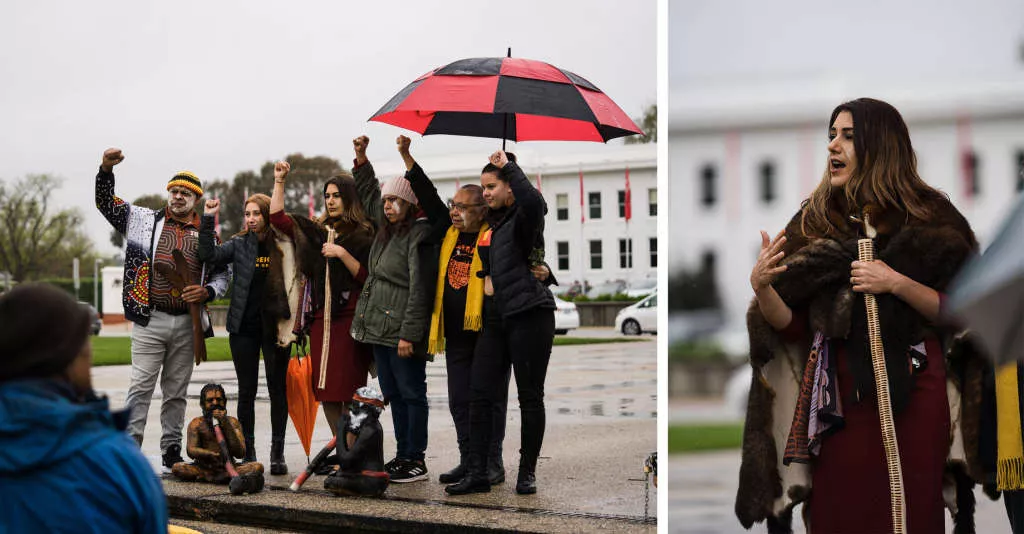 Photographs by Luke Currie-Richardson
---