90-year-old souvenirs for a 90-year-old building
Written by

Kate Armstrong

Date

Tue, 11 Apr 2017
Old Parliament House is turning 90 this year and so are the thousands of souvenirs manufactured for the opening of the building on 9 May 1927 by the Duke of York.
The occasion established the seat of federal parliament in the national capital, Canberra, and the souvenirs underline the significance of that step for Australia's democracy. The pieces also commemorate the tour by the Duke and Duchess of York, later King George VI and Queen Consort of the United Kingdom and the Dominions, both popular royals of the day. 
The Museum of Australian Democracy Collection contains numerous souvenirs from the opening—a testament to the sheer number and range of pieces manufactured to meet the demand of official visitors, participants and the general public. Looking through the collection, I am struck by how 90-year-old, voiceless souvenirs can still tell stories of personal memory and meaning. They still resonate as cherished souvenirs from the opening of a significant and iconic landmark of Australian democracy. Can you recognise your own motivations for buying souvenirs in these created by my imagination?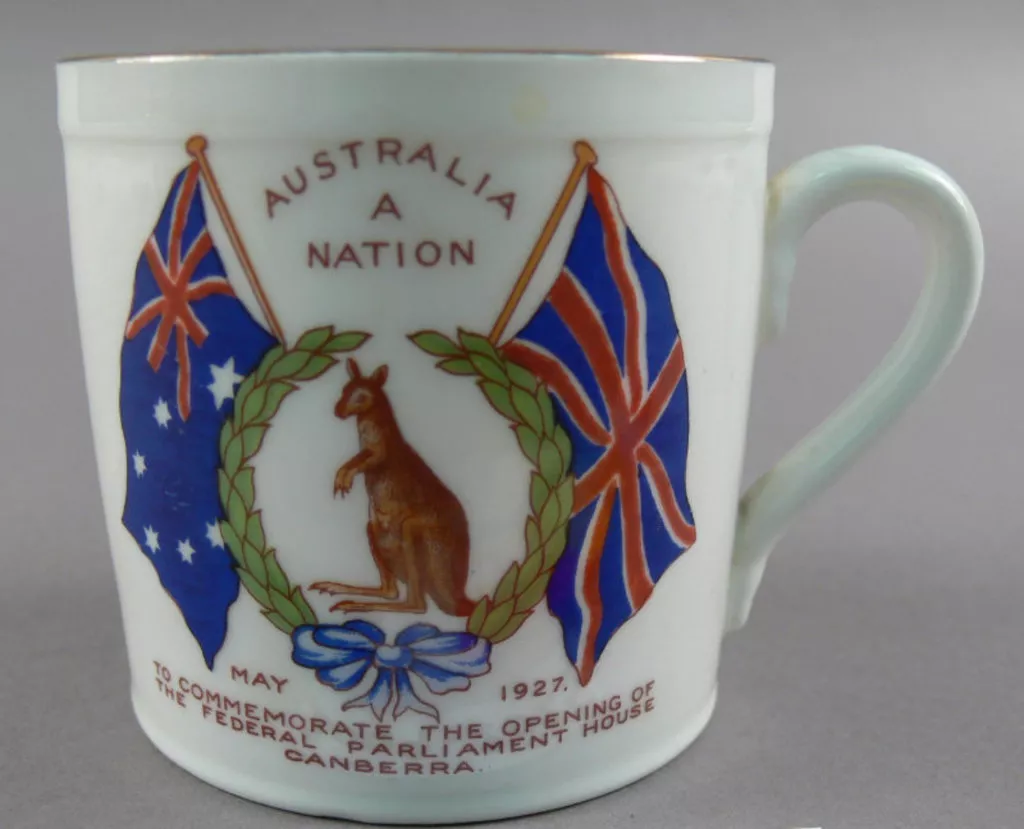 Colourful souvenir mugs were manufactured in Britain by Aynsley and carefully transported to Australia for the opening of Parliament House in 1927. The design on the front of the mug shows a kangaroo with tiny joey in pouch encircled by a wreath and Australian and British flags. The inscription at the top proudly proclaims 'AUSTRALIA A NATION' despite Australia becoming a nation in 1901. Image: Museum of Australian Democracy Collection
---
From my distant seat in the public stands, I saw the Duke of York wield a golden key to open Parliament House and I got this set of souvenir postcards to prove it.
---
---
Every time I get out my delicate pin dish to do some routine sewing, I remember the arduous but exciting road trip to Canberra and seeing the Royals – so glamorous! The outfits!
---
---
'Somebody' forgot to pack the opener for the soft drink so I purchased this souvenir pocketknife with bottle opener. It's a permanent fixture in our picnic set. That particular story is brought up every time we use it.
---
---
While I was in Canberra for the opening of Parliament I was thinking of you so I bought you this special tea caddy. I wanted to get you something that you could use every single day.
---
This year we are celebrating our 90th birthday with The Opening Day: 9 May 1927. This exhibition will feature more of our remarkable souvenir collection and opens, unsurprisingly, on 9 May.