Enlighten 2020: Better together
Enlighten 2020: Better together
Written by

Michael Evans

Date

Thu, 27 Feb 2020
This year's Enlighten projections celebrate how we're better when we're together.
We're better when we're together; the sum is greater than its parts. If we haven't learnt this before, this summer, with its litany of disasters, has driven home how much more we can achieve as a community than as individuals alone. 

So this year's Enlighten projections on the façade of Old Parliament House are a celebration of that spirit: they remind us to stay positive and work together for the common good.
Yours Faithfully
There's something in the choice of paper, the individuality of handwriting, or the similar personal imprint of a typewriter that conveys not just information but personality and emotion. Writing, sending and receiving a physical letter draws us together in ways that electronic methods just can't.

Visitors to Yours Faithfully at MoAD can send a letter to anyone. This summer many have chosen to send them to strangers – to emergency workers, to those suffering loss, to politicians – making a connection, saying that we're with you, that we have to work together to flourish.
Truth, Power and a Free Press
Working together as a community requires openly sharing knowledge and ideas that we can trust. A free media is an important tool for a well-functioning democracy. At present, change from multiple directions threatens to undermine the trust we have in what we see in the media, and the ability of media to communicate openly. These are changes which drive us apart rather than bring us together. Our Truth, Power and a Free Press exhibition challenges us to become active media citizens to ensure the future of our free media.
Building Elements
Old Parliament House was designed as a place where Australians came together to build a great nation and a great democracy. The people who worked in this building didn't always get it right, but they came together to discuss, debate and to argue their point of view, always focussed on making a democratic nation – the common good. Like these people, Old Parliament House is made up of myriad elements that are easy to overlook apart, but seen together they create something beautiful that we can all be proud of.
Behind the Lines
Take individual cartoonists working right across Australia, holding widely divergent views, working in small scale and large; bring them together and what do you get? You get the story of the year in politics with all its highs and lows, its moment of tragedy and triumph. It's always a fascinating story, election years are always bumper years – and 2019 was no exception. Look at these images and it's easy to see how much can be achieved when there is a shared purpose, and how much can be lost when it is lacking.
Hive Mind
We're at a critical crossroads after the recent fires. Hive Mind is a useful consensus-building tool under these circumstances. It's a form of collective consciousness in which people, like bees, exchange knowledge and resources. Hive Mind reminds us of our shared humanity, that communities can be greater than the sum of their individual parts.
Come into the Hive to explore possible futures. Share your ideas and take counsel from the knowledge of others.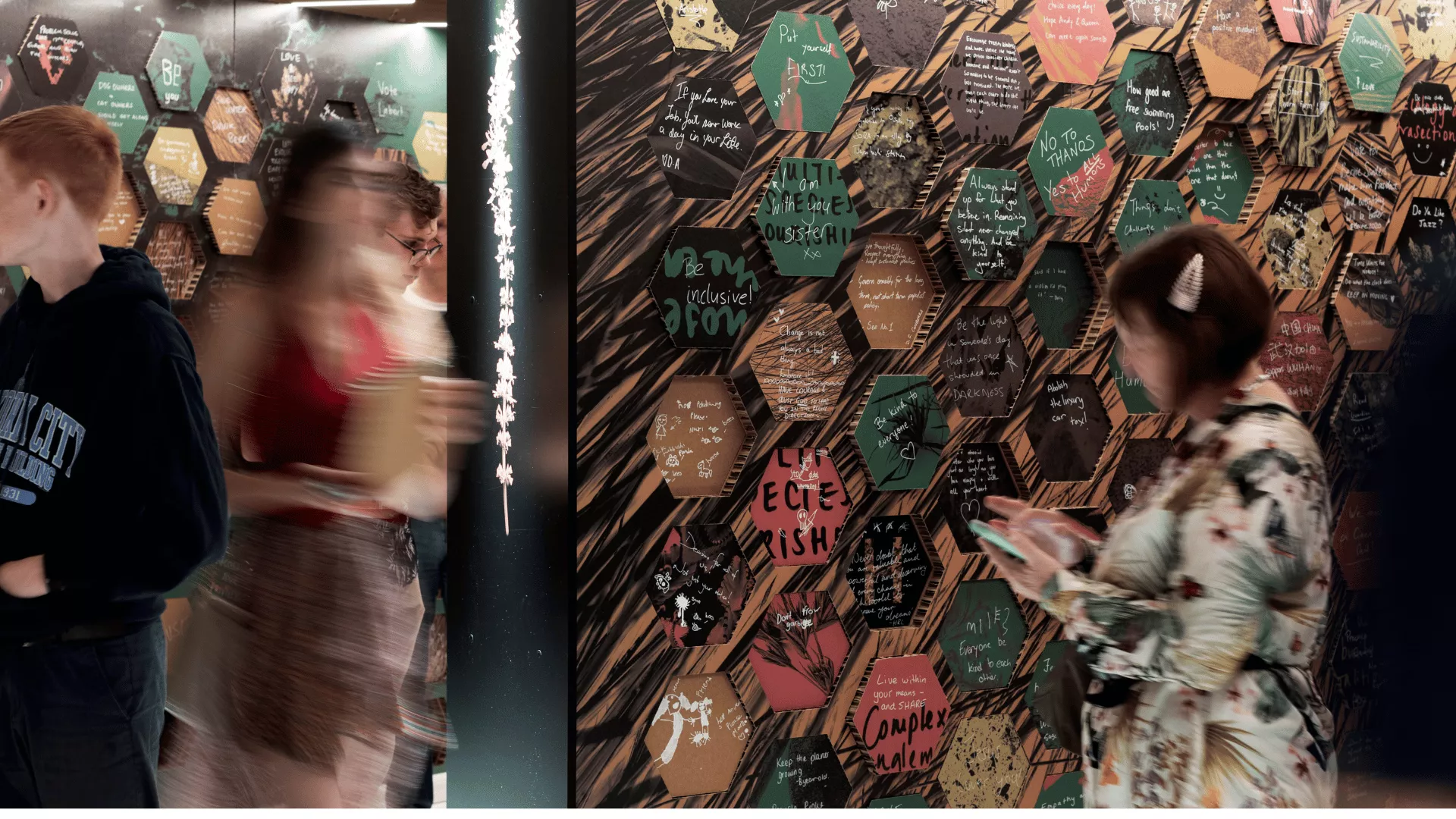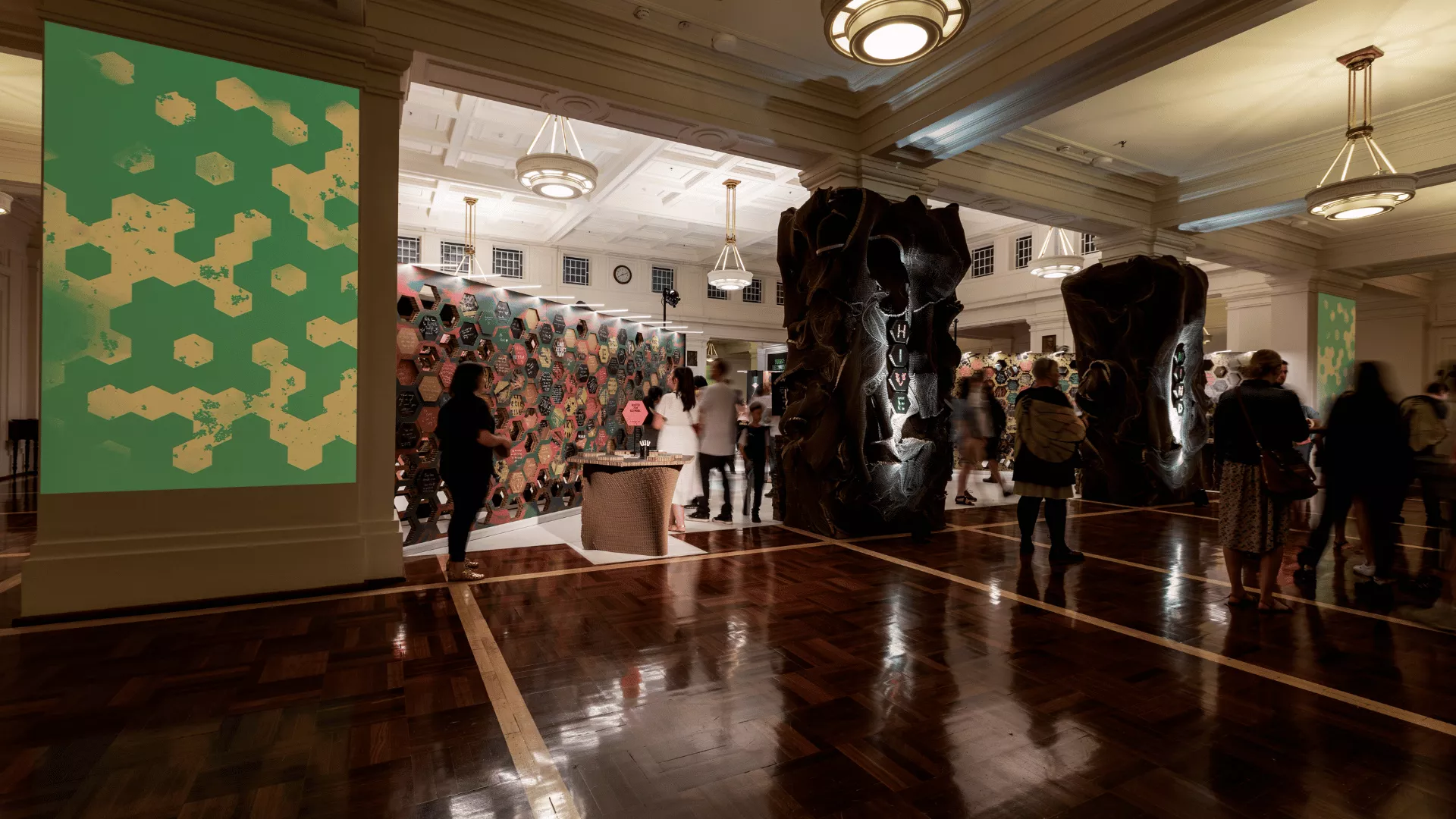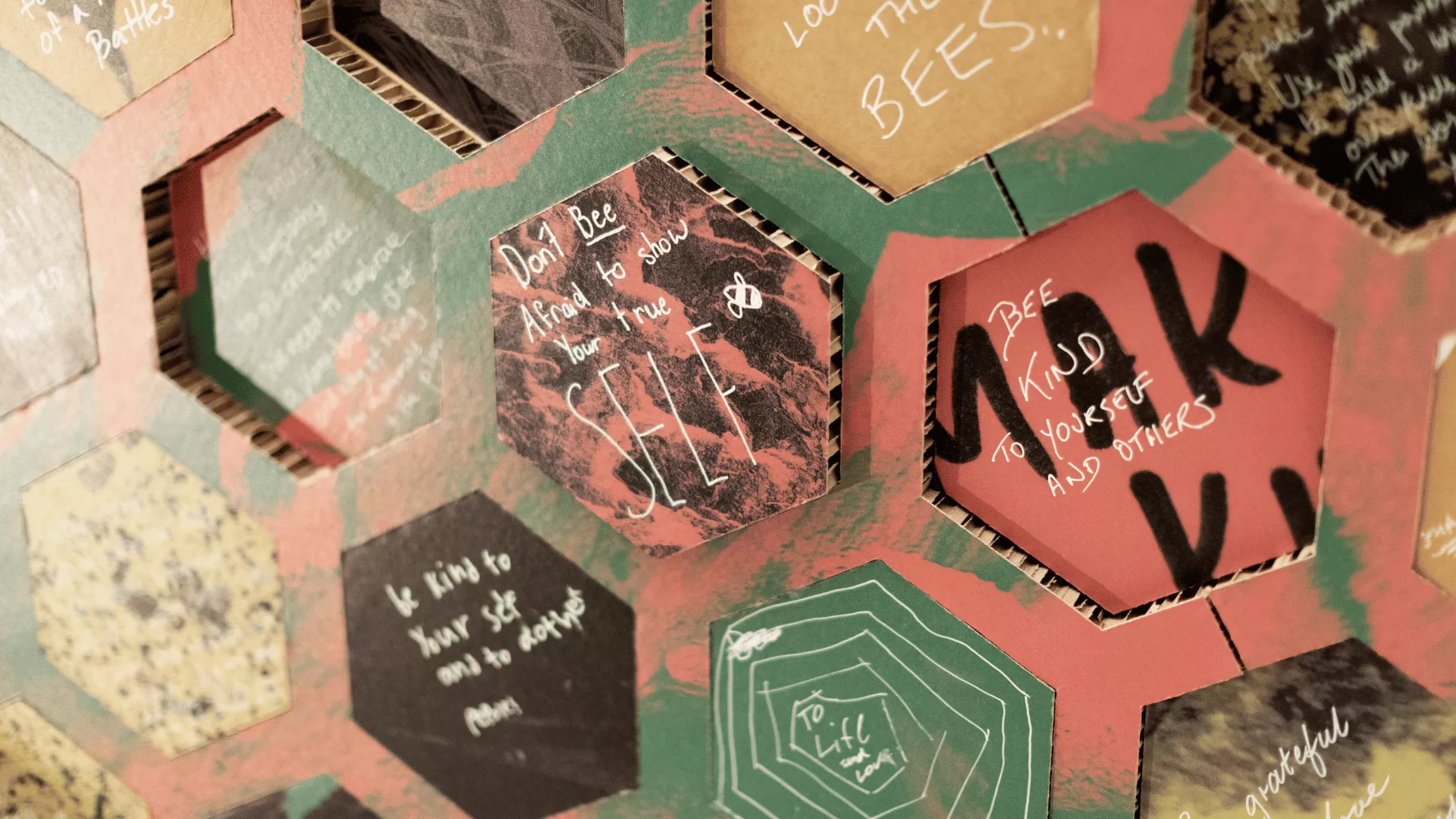 For Enlighten 2020, MoAD unveiled its HiveMind exhibition.
---