Out of the shadows - the story of a Star of David cloth patch
Out of the shadows - the story of a Star of David cloth patch
Written by

Stephanie Pfennigwerth

Date

Mon, 13 Sep 2021
Near the entrance of our exhibition Democracy: Are You In? is a small yellow cloth patch.
Now some eighty years old, it is displayed in semi-darkness, to help protect its delicate fibres. We block light to this object to shed light on a terrible chapter in human history.
Netty's Star of David cloth patch, c. 1943- Jewish Holocaust Centre Archival Collection, donated by Bep Gomperts 1599-53.
---
The patch was worn by Dutchwoman Jeanette ('Netty') Gerritse in the 1940s. Netty was a busy hairdresser, married to Abraham and with a little daughter, Bep. Her family were also Jewish, communists, and in grave danger. Across Europe, the Nazi regime had incited intense racial and religious bigotry. Forced to wear this Star of David, Netty was targeted for state-sanctioned persecution and terror.
Bep was two years old when the Netherlands fell to the Nazis. Dutch Jews were driven from their jobs, businesses and homes. They were trapped in ghettoes ringed with barbed wire. Many were betrayed by neighbours in exchange for German payments. Marked out by their cloth patches, and identification papers stamped with a 'J', Jewish people were 'relentlessly monitored and hunted', Bep says in her memoir. 'Fear followed every heartbeat.'
In 1942, when Bep was four, Netty and Abraham decided to go into hiding with the help of the Dutch Resistance. Its members risked their own lives to forge identification papers or hide Jewish people in secret rooms and sealed-off walls. On the day the family were to disappear, Abraham went downtown to tie up some loose ends. He never came home. Then Dutch collaborators knocked on Netty's door. Stalling for time, she pretended to faint. A quick-thinking doctor declared her 'contagious' and scared off the thugs, but Netty knew she'd have no second chance. Mother and daughter began their life on the run: innocent people criminalised; without rights in their own country.
'You felt like a hunted animal, always vigilant, always nervous, always wondering when the hunters might finally catch up with you,' Bep recalls. But there were kindnesses, too. One family with ten children sheltered them, so poor the children stole food. One day they acquired a cucumber, which was thinly sliced for all to share. 'It was the best cucumber I had ever tasted.'
In April 1944, to increase their chances of survival, Netty had to separate from her daughter. Bep lived undercover in the countryside with a Dutch Reformed family, who shared their rations through the brutal 'Hunger Winter' of 1944–45. Bep ate tulip bulbs and bread made with sawdust. People burned their staircases for heat. Occasionally she received postcards, addressed to her pseudonym, signed simply 'Mama'. Then, the postcards stopped.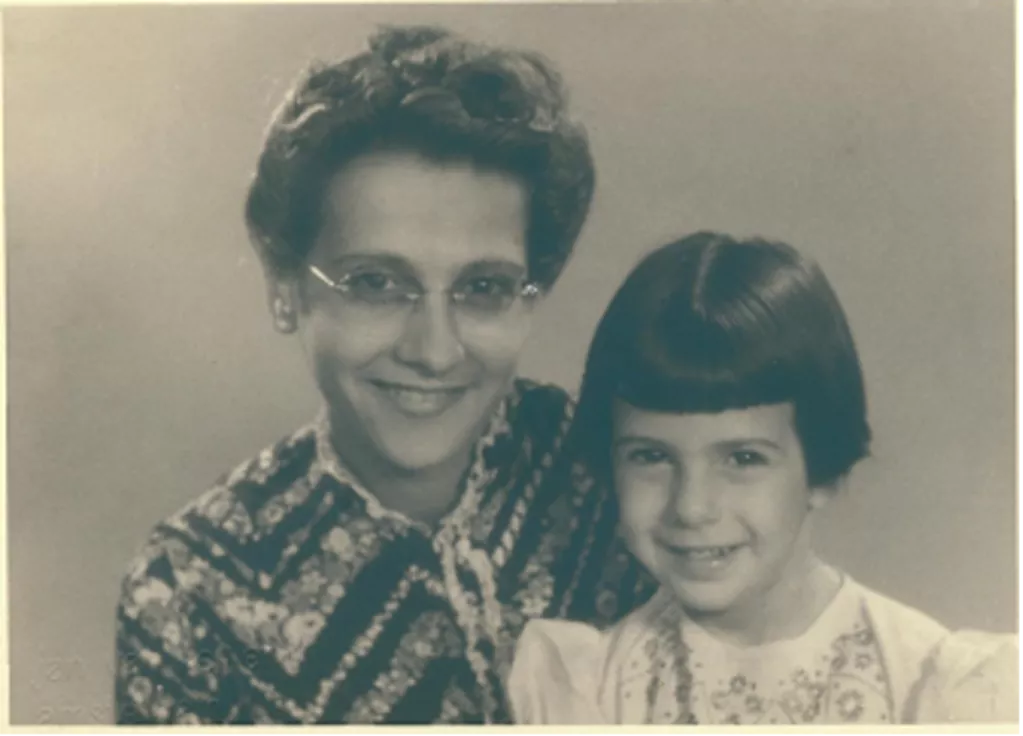 Netty and Bep in Amsterdam, c. 1943 -Boris Kowadlo/Jewish Holocaust Centre Archival Collection, donated by Bep Gomperts 1599-135.
---
Hiding in Amsterdam, Netty had been betrayed. She was imprisoned in Westerbork Transit Camp to await a train to her death. But Allied bombs destroyed the railway lines. On 13 April 1945, Netty was liberated by Canadian forces.
It seemed the war was over. But for Netty and Bep, it had only just begun. 
Almost everyone in Netty's family – including husband Abraham – had been murdered. Bep had bonded with her foster families and felt little connection to her mother. 'And when the war was over, the whole of the Netherlands was very cold towards the Jews,' Bep says. Some Dutch particularly resented the survivors receiving reparation payments. Netty nevertheless salvaged and saved the fragments of her life. These fragments included her family's Star of David cloth patches, symbols of hate and death now proof of people who had once lived, and were forever loved.
In 1979 Bep moved with her family to Australia for a fresh start. But she says the war 'is living with you and it will never leave you.' She began volunteering at Melbourne's Jewish Holocaust Centre to help safeguard survivors' stories. After Netty's death in 1996, Bep donated her cloth patch to the Centre. We thank the Centre for generously allowing us to display it in Democracy: Are You In?
This cloth patch, gently glowing in its showcase, is testament to a mother's love and a daughter's pledge that her story is never forgotten.