Q&A with Emma Gwynn, Manager of Heritage and Collections
Q&A with Emma Gwynn, Manager of Heritage and Collections
Written by

MoAD

Date

Tue, 22 Feb 2022
It takes a lot of people to clean up after a fire, especially for a heritage-listed building.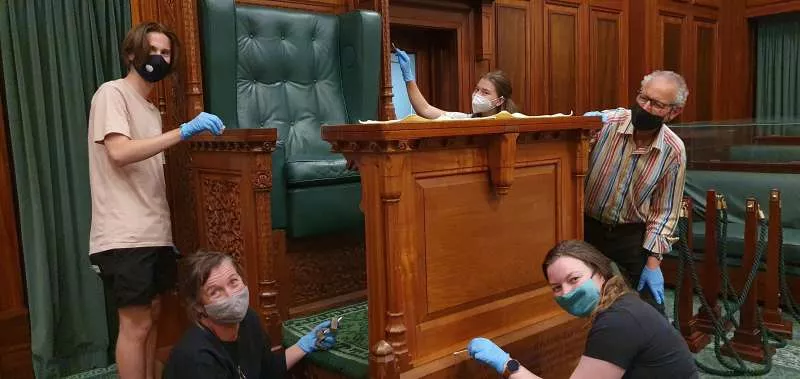 MoAD staff and conservators carefully clean the Speaker's Chair in the House of Representatives.
---
Emma Gwynn, our Manager of Heritage and Collections, is just one member of the multiple teams working tirelessly to reverse the devastating fire damage at Old Parliament House. We spoke to her about the restoration process, and everyday maintenance for historic buildings.
Who are you and what do you do at MoAD?
I'm Emma Gwynn, the Manager of Heritage and Collections here at MoAD. My team looks after building conservation and are responsible for looking after the thousands of items in the museum's collection.
We work across the entire organisation to ensure all aspects of the work MoAD does respects the collection items and the heritage values of Old Parliament House.
Can Old Parliament House be restored exactly how it was before the fires?
Some original building material has been completely burnt and will have to be replaced with new material, while some areas will just need a careful clean.
Parts of the front entrance areas that were most affected by the fire, including the front doors, will be repaired and refinished to look as it was before.
The front portico will be rebuilt using steel beam salvaged from the fire. Thankfully we have the original plans, so we can find out the best material types and colours to use. This should help us to be able to rebuild the portico to match its original design.
Our aim is to return Old Parliament House as closely as possible to its original splendour.
What will be the most challenging part of the post-fire restoration process?
The most challenging part of the process will be the restoration of the original front doors. It's estimated that 25% of the doors has burnt away entirely and will need to be replaced with new timber. It will be a slow and meticulous process of documenting and disassembling the layers of timber and charcoal. New Jarrah wood will need to be sourced to match the age and grain of the original doors as closely as possible, and it will need to be coloured to blend in with the old Jarrah that has aged and faded.
How do you make sure the original spaces are preserved as much as possible while cleaning and restoring the fire damage?
The conservation process involves a collaboration of specialists to determine the best ways to repair this significant heritage building and conserve our national collection.
We are working to establish the best methodologies and products for the removal of soot from a range of surface types that have been impacted. We are dealing with fragile collection materials like books, artworks, furniture, textiles, plastics, metals, leather and timber, and damaged building materials like painted masonry walls, external fittings and architectural features.
The longer soot remains on an object the harder it is to safely remove it, so it's crucial that we act quickly. It's also important that we handle the items as little as possible. Soot and ash are abrasive and can interact with natural oils in our skin and cause more damage.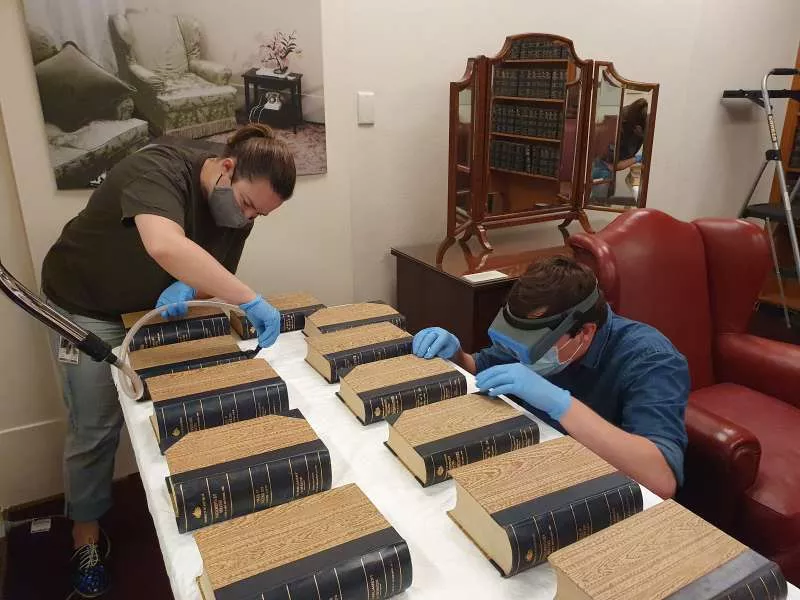 MoAD conservators painstakingly clean Hansard books from MoAD's collection.
---
What kind of everyday regular maintenance do old, historic buildings require?
Being custodians of an almost 100-year-old building and all the items inside comes with some challenges.
Along with all the usual building maintenance, we also need to consider our heritage requirements and the re-use of the building as a museum, venue, and office space. We have to find a balance between keeping the building vibrant and active while maintaining the spirit of place.
In heritage buildings we try to keep as much original material as possible rather than replacing it with new additions. This can mean finding innovative ways to recover after incidents and natural disasters, and accidental or intentional damage, that respect the building's history. On a daily basis, we manage the risks of deterioration from the impacts of pest infestations, natural and artificial light exposure, dirt and dust, water leaks and condensation, and general wear and tear. Making sure the building is presented as a well-loved and important part of Australia's heritage is our overall aim.