The careful conservation of the statue of King George V
The careful conservation of the statue of King George V
Written by

Natalie Ison

Date

Tue, 22 Feb 2022
Since Old Parliament House opened in 1927, guests have been greeted by the towering bronze statue of King George V in King's Hall.
During the years the building was home to the Parliament, his toes would often be buffed to a bright shine by journalists propping themselves up on his base as they waited to catch parliamentarians on the move. Today, as a result of the fire in December 2021, it's time for King George to undergo a more considered clean and shine. The Museum of Australian Democracy (MoAD) Executive Officer Natalie Ison and Exhibitions Coordinator Sarah M, both trained objects conservators, explain the process and importance of this special project.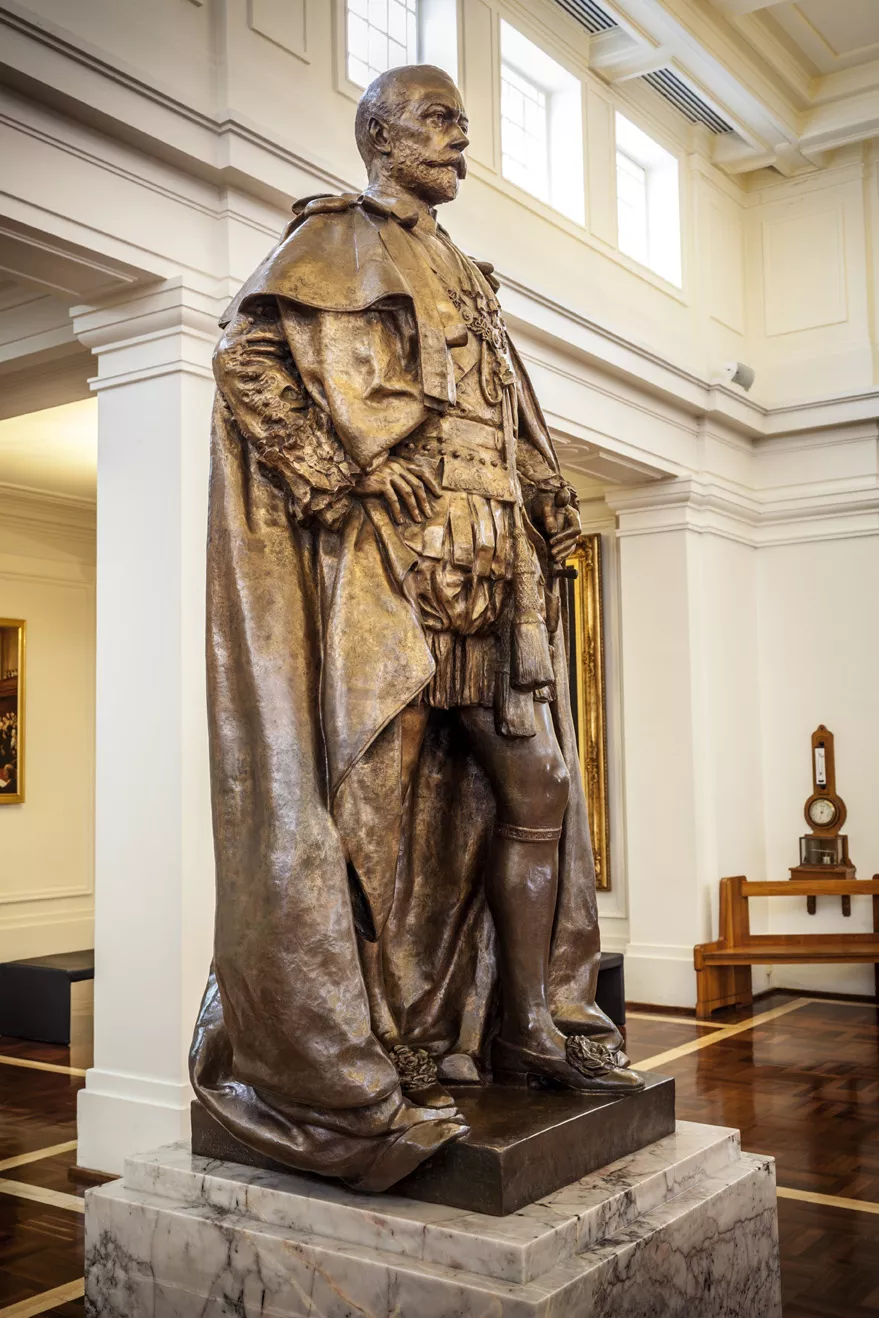 Bronze statue of King George V with a bas-relief on the wall column behind. 
---
Time to shine 
While the fire on December 30, 2021, was extinguished quickly, the smoke travelled far beyond the main doors and permeated much of the building. It left a stubborn layer of soot that needed to be carefully removed from most surfaces and objects, the statue of King George V was no exception.  
'Like all heritage and collection staff, we are trained in disaster management – it's the sort of training conservators hope they never have to use,' explains Sarah.  'Yet here we are, up ladders, carefully cleaning the crevasses of a king with demineralised water and microfibre cloths.' 
Organic particles like soot and dust are 'hygroscopic', which means they attract and absorb water. On metal sculptures, this can be a recipe for corrosion. 
'You never really appreciate the details in a sculpture until you need to clean it! Every fold of his cloak, the rosettes of his shoes, the bows at his shoulder, the chain that hangs around his back and chest – every beautiful little detail is full of soot,' says Natalie. 
A conservator's tool kit
Conservation is a niche profession, and most conservators build their own tool kits from an eclectic variety of materials and equipment. Including the humble bamboo barbeque skewer. 
'Bamboo skewers are a great tool because they're softer than most metals, but harder than most things that typically build-up on metal surfaces. We knew we could use them to get the microfibre cloths right into delicate details of King George without scratching the surface,' says Sarah.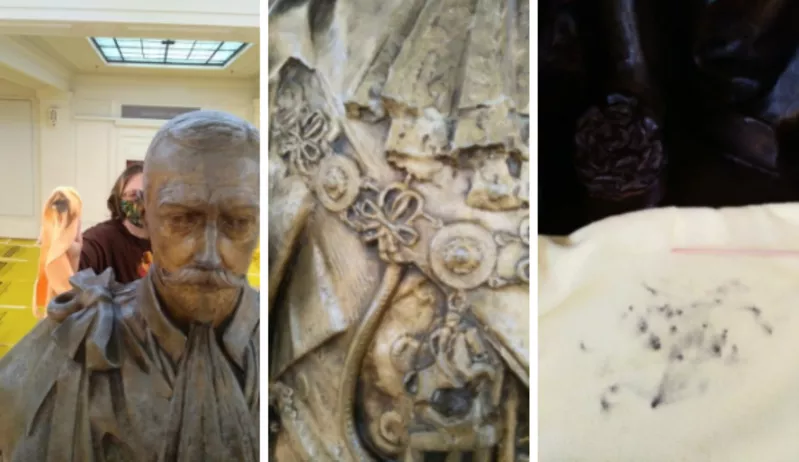 Getting into every little crease took an item that you might not normally think would become one of our favourite tools – the humble bamboo skewer!
---
The final touches
Conservation is the art, craft, and science of looking after heritage. It is informed by assessing and managing risks and maintaining records over an object's history. Conservators ensure that work they do today does not cause issues in the future. 'Because such extensive conservation records are kept about previous treatments on King George, we were able to plan our treatment methods and equipment so that the work we were doing did not remove anything other than soot,' says Natalie.  
The final part of their treatment of King George was a gentle covering. After he had time to air dry, they applied a layer of microcrystalline wax, which protects metal surfaces from dust and environmental factors. Then, King George was covered with a polyethylene sheet. He will soon have a box built around him to keep him safe during further cleaning and painting that needs to be completed in King's Hall.   
We look forward to showing off our freshly cleaned and polished King George when the building re-opens to the public soon.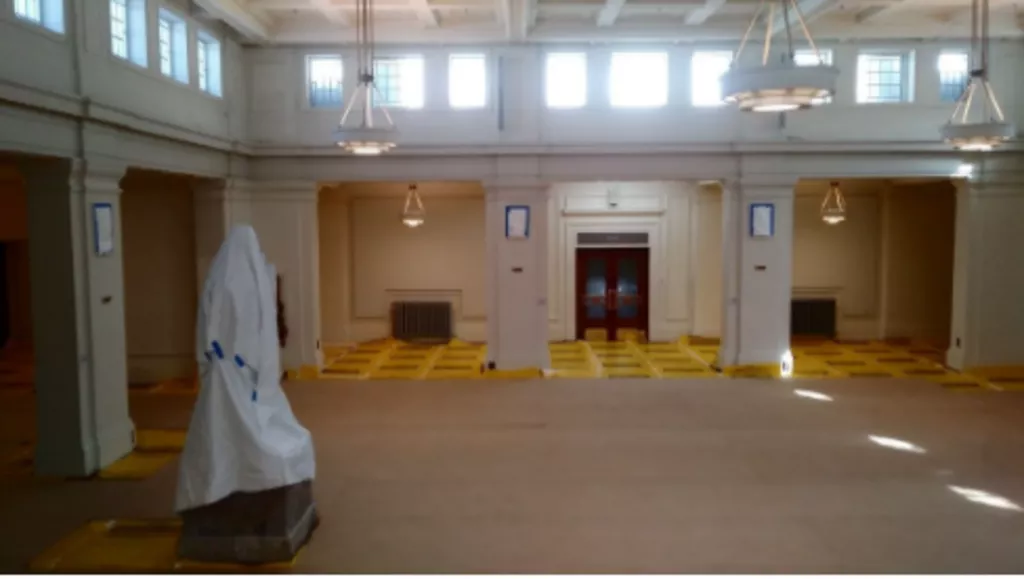 King George shrouded in cloth, waiting to welcome the visitors when Old Parliament House reopens to the public.
---
Executive Officer Natalie Ison and Exhibitions Coordinator Sarah M are both trained objects conservators, who have worked together for many years in the cultural sector. Their work is just one of many examples of all the MoAD staff and volunteers who are helping in the recovery and cleaning efforts since the recent fire at our front doors.